ARTIST'S STATEMENT

I love the elegance and simplicity of the Chinese Brushstroke. Each stroke can represent a leaf, a wing, an emotion - so much can be said with so little. A simple elegant piece transitions into all cultures and fits every décor.
My favorite self-expressions are Abstracts, Animals, Botanicals and Landscapes. My color palette ranges from traditional Sumi-e Black and White to subtle Monochromatic colors to Warm and Cool Neutrals to brilliant splashes of color: from Old World traditional color ways to Contemporary Color Trends of today and tomorrow. By forming an artistic relationship, we can translate your memories and dreams into a tangible art piece that you can look at and enjoy every single day.
My purpose in life is to create Art and Beauty in this world, . . . one painting at a time
– and to enable others to do the same.

ABOUT DIANA MARRA
In life as in art,
"Everything I do makes me what I am"
(anonymous).

For as long as she can remember, Diana has wanted to be an artist. Yet for whatever reason, she felt she had to do something scientific and did not pursue art professionally. With a dual major in Chemistry and Psychology from Ohio University, she began a 33-year career with Formica Corporation, primarily in Engineering, Design, and Global Product Development. Being able to visualize the end result as an artist, and develop and implement production steps as an engineer, was a unique and vital combination to her success.

Formica capitalized on her talents by sending her to paper mills, printers, and manufacturing plants across the USA, Canada, Germany, France, England, Japan, and China, to professionally color match designs, develop textures and create new products.

With new-found freedom in 2008, she turned a 20-year sideline pursuit of art into an in-depth investigation into Art History, Designs of the Masters, Color Theory, PhotoShop, Faux Finishing, Botanical Drawing, and Chinese Brush Painting. And there she found her niche: the ancient art of Brush Painting, with such elegance in its simplicity, captured her heart.

The year 2010 began a year of global travel and artistic study, to capture the cultures and landscapes for future paintings: from jungle-trekking and cave-tubing in Belize to the International Crane Foundation in Wisconsin to touring and study in Italy and the Mediterranean to Hawaii. The culmination of her Brush Painting education went from the Art Academy of Cincinnati and private study with Karl Feng, to a 3-week tour and study with Ning Yeh in China: the New China University in Beijing, climbing The Great Wall, Yellow Mountain and Zhangjiajie – the inspiration for 'Avatar'… old China as seen through an artist's eyes. In 2017 Diana received her Teacher Certification in Asian Brush Painting from OAS Oriental Arts Supply, Ning Yeh's, 4-generation painters' family business.

Diana's style includes both Traditional, using Chinese ink and watercolor, matted and framed artwork, and a new Contemporary style using acrylics on gallery-wrapped canvas. Her products include fine art paintings, prints, miniatures, notecards, custom art. Diana has won awards on a local, national and international level, and exhibited in street fairs, galleries and online. Her work is sold in shows, online and at the Cincinnati Nature Center. Her work is purchased for homes throughout the USA as well as Commercial markets. She has been published in American Art Collector, International Contemporary Artists Vol. VIII, BLINK Art Resource Catalog, and BLINK Curated Spaces.

By request she began Teaching and Lecturing as well as exhibiting in 2014, specializing in the Asian arts, Color Theory, and Watercolor.

She carries over her 20+ years of Corporate Custom Business into her own painting business, creating one-of-a-kind artwork to fill a special and personal need.


I love to start with photos of my travels, add my emotional response, and create a hand painted memory to treasure forever – and I can do the same for you: Your Memory + My Brushstrokes = Our Creation.
Diana gives God the glory of her passion and abilities and remains truly grateful.


You may email me
designbydiana@aol.com
or
CONTACT ME BY PHONE
513-884-2574
_____________________
Thank you for your interest.
I look forward to hearing from you.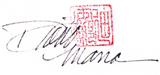 Memberships
Association of Miniature Artists
BLINK Curated Spaces
Cincinnati Art Club
Greater Cincinnati Watercolor Society
IDAL/Int'l Decorative Artisans League
Mixed Media Mavens
Queen City Artisans
Sumi-e Society of America
WOWS Western Ohio Watercolor Society
_________________________________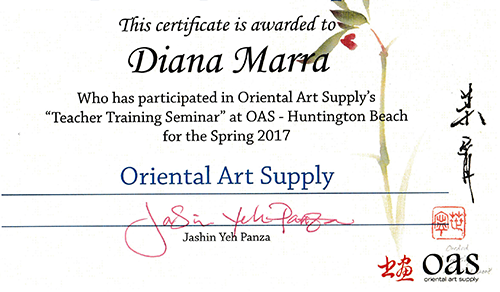 ARTS

A contemporary twist on an ancient art form
BY PAMELA DILLON CONTRIBUTING WRITER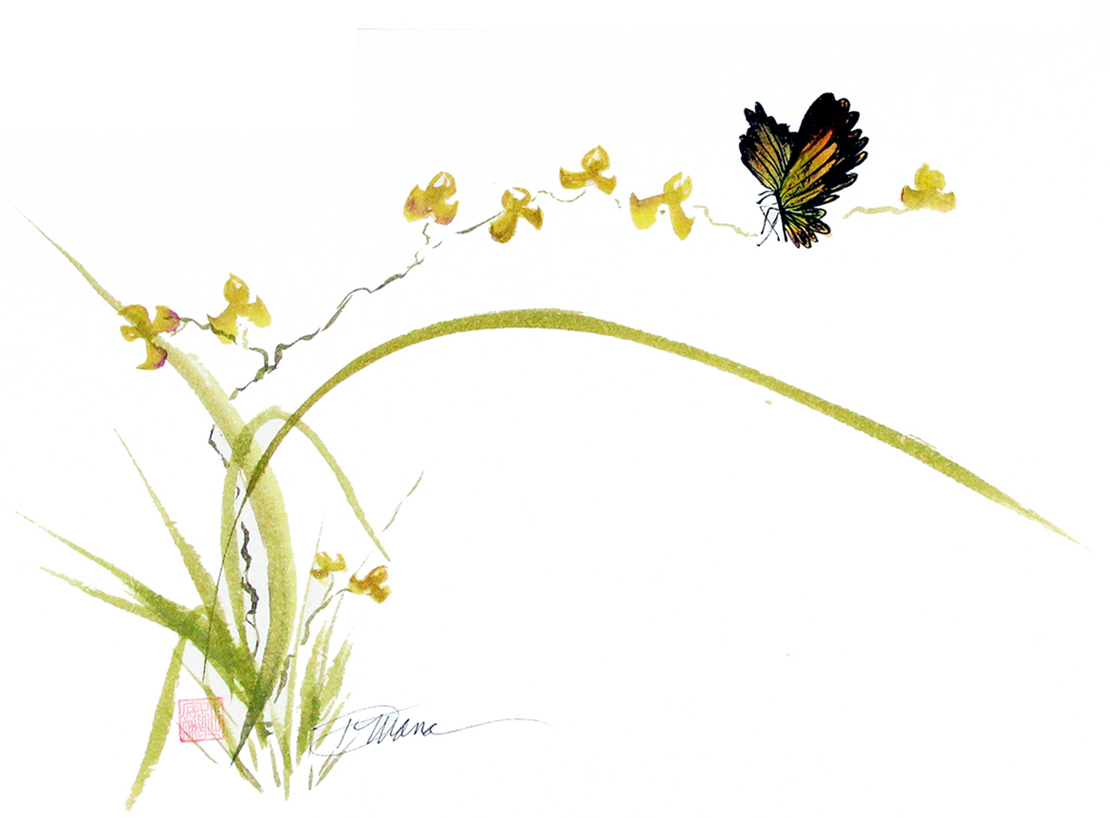 "The Orchid and the Butterfly" by Diana Marra


Be inspired by the simplicity of Asian beauty when you view a series of four by Diana Marra: Serenity Series, Sumi-e Series, Elements Series, and Designer Series at the Middletown Fine Arts Center. Also included with the four collections are smaller works and notecards.


"The Orchid and the Butterfly" is an example from her Serenity Series. Her watercolor on rice paper is mostly untouched, with the elegant lines of the orchid leaves enhanced by a beautiful butterfly flitting among the delicate golden petals.

"When I first started my business In 2011, I visited art fairs and noticed too many mixtures of design, color, and framing. I wanted a more unified and contemporary twist on the ancient art form of Chinese brush painting," said Marra, a Cincinnati resident. "The simplicity of brushstrokes and design … gives one a feeling of peace and tranquility."

Marra was able to follow her lifelong dream of becoming an artist when she retired from Formica in 2008. The former global product manager started studying brush painting at the Art Academy of Cincinnati. She has also studied art techniques with Karl Feng in Montgomery, Ohio, and Ning Yeh in China.

"Happy Dragon" depicts a work in her Sumi-e Series. With the single color of black, Marra is able to make her subject come alive. The ebony of the dragon's back spikes and long claws make a nice contrast to the lighter touch of the scales. One almost senses the dragon will jump off the paper.

"Centuries ago, this art form was created with tones of ink on rice paper. I wanted to honor the tradition and create some works with only ink, and the absence of color," said Marra.

Her Elements series were tucked in among the others, as MAC had four large walls for her to use. The series was a collection of abstracted small studies, not final artworks. The title of this series was a grinning nod to her very first concert, Earth, Wind, and Fire.

"I found I wanted to hang the show with less art, more wall space, and kind of blurred my delineations of each series," said Marra. "Combining basic elements with Feng Shui; I wanted to create the five elements with Earth-Wind-Fire-Metal-Water as a theme."

The Designer Series was a practical use of color, design, and contemporary trends.

Some in the series use splashes of brilliant trending colors of national brands, like Sherwin Williams. "Golden Floralbunda," a work reminiscent of Georgia O'Keefe's macro florals, is an example of this.

"Oftentimes I was giving the client that which they did not even realize they needed," said Marra. "The utilization of Asian materials, various rice papers, are used to create a collage of materials, more so than an actual painting. As I love to do custom works, bits of memorabilia from the client could easily be included in these collages."

Four of her paintings now showing at MAC will be exhibited at the Atrium Medical Centerin Middletowndirectly after the exhibit. Besides working in her studio, she continues teaching art and has recently completed a Japanese Garden "to support her aesthetic."

Dayton Daily News, January 8, 2017

Contact contributing writer Pamela Dillon:
pamdillon@woh.rr.com